t
he most important aspect in marketing is human behaviour but sadly today's advertising environment is filled with too many messages and not enough attention to a unique and catchy advertisement for attracting consumers.
Shock Marketing is a field of marketing that provokes, inspires and stuns the public very much similar to guerilla marketing. This blog helps you to explores the use and impact of shockvertising (shock advertising) in advertising campaigns.
Shock advertising or Shockvertising is a type of advertising that "deliberately, rather than inadvertently, startles and offends its audience by violating common norms of social values and personal ideals". It is the employment in advertising or public relations of "graphic imagery and blunt slogans to highlight" a public policy issue, goods, or services. Shock advertising is designed principally to break through the advertising "clutter" to capture attention and create buzz, and also to attract an audience to a certain brand or bring awareness to a certain public service issue, health issue, or cause.
Is Shockvertising Good To Use?
Shock advertising can be controversial, crass or disturbing. Not surprisingly, shockvertising can be wildly successful or backfire horribly, and any organization or company that uses these marketing tactics risks its brand's reputation. Shock advertising is not for everybody. These advertisements are far more effective amongst younger audiences than older audiences because older people are more likely to be strongly offended by advertisements that include vulgar and obscene material. The shock advertisements create curiosity in youth and become useful in raising awareness.
Any Example Of Shockvertising?
One such recent example is that of Burger King's recent tweet. They tweeted "Women belong in the kitchen" and shook the entire audience by a surprise. It was the first tweet in a thread of three, with the second immediately starting with "if they want to, of course", designed to bring attention to the fact that only 20% of chefs are women, and that they are launching a female-only scholarship designed to help their staff become chefs. Burger King wanted to highlight the massive lack of diversity among chefs, and instead what they did was provide a platform for a large number of abusive messages, thinly disguised as 'banter'.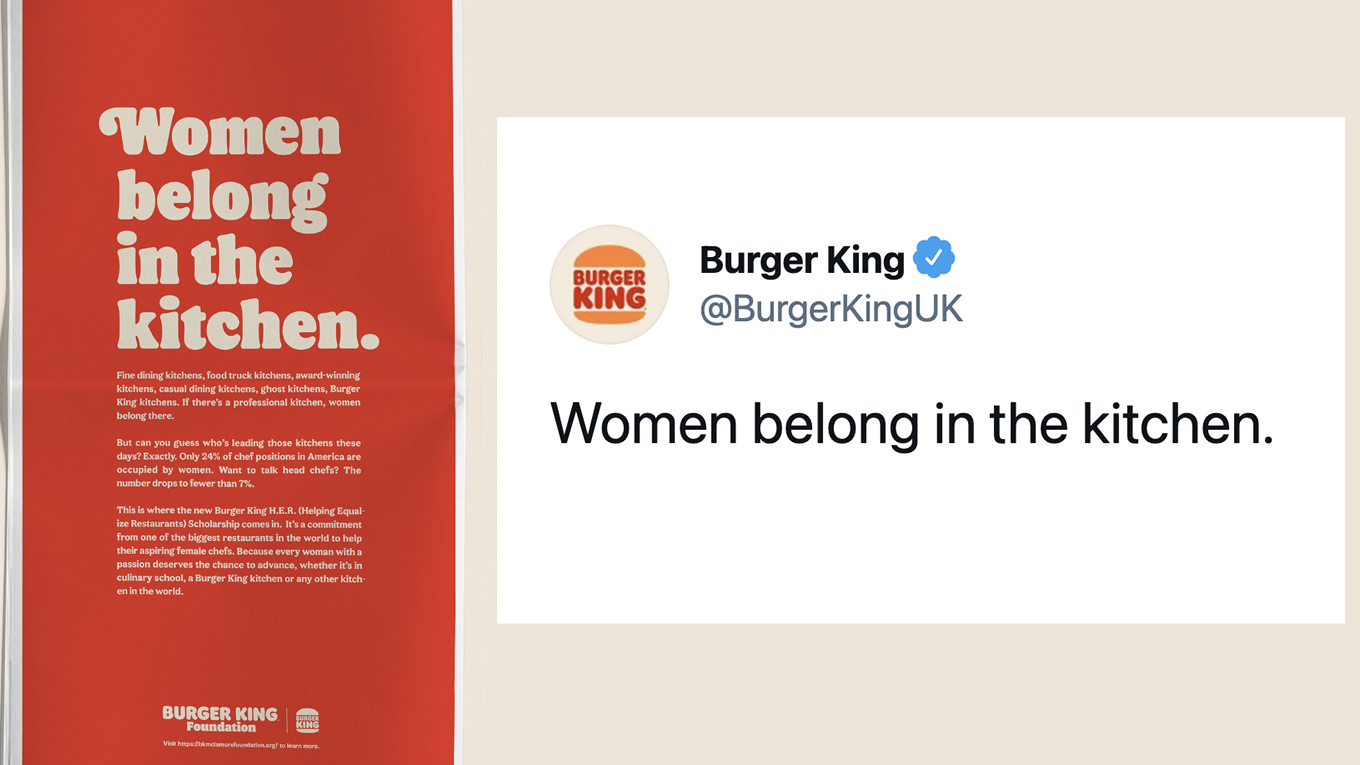 Sure, it was an attempt at advertising, but as David Ogilvy once said, "80% of people only read the headline."
The last thing you want to do is UPSET your fans before you get your message across – even if you meant well. About 12 hours after launch, the tweet was taken down, with Burger King UK tweeting that the campaign was executed incorrectly.
Shock advertising is the epitome of easy to do, hard to master. And if you aren't going to get it right, probably don't do it and go with simple but customer-friendly marketing. Unless you truly believe that there's no such thing as bad publicity, getting it wrong is more likely to hurt than help.
However, shocking communications can have positive effects on attention, memory, and behaviour. Sometimes shock advertising directly violating societal law so, careful target audience selection and savvy creative execution are needed in it.
Especially in the digital marketing age with expertise digital marketing agencies like Rankofy, when content can become viral extremely fast on social media, shock advertising campaigns must be well thought out and executed in order to yield positive results always.
To Get Such Amazing Content, Follow Us o
Related Posts