The Majestic House is a renowned and magnificent hotel with an elegant and attractive outlook in the heart of Gurgaon. All of the rooms are of the highest quality, with cutting-edge designs and features. The tradition of the Majestic House is to provide top service to their guests. The Majestic House team is available to assist their guests with whatever requests they may have so that they may enjoy themselves to the fullest.
Project Name
Website Design
Our Role
Website And Content Development
Choosing From The Best For You
Quality And Smoothness Is Our Next Name.
Rankofy- A Trustworthy Name in the Industry For Our Client.
Being one of the leading hotels in Gurgaon, The Majestic House desired a website with contemporary styling and effective features. They wanted to portray their hotel professionally to their current and prospective visitors or guests. We at Rankofy got in touch with The Majestic House team and started identifying and evaluating the problems they were having.
We came up with the idea for Website Development for their business model after examining their concerns and aims. Following their request, our team began working full-time on the Website Development project for The Majestic House to help them expand their internet presence.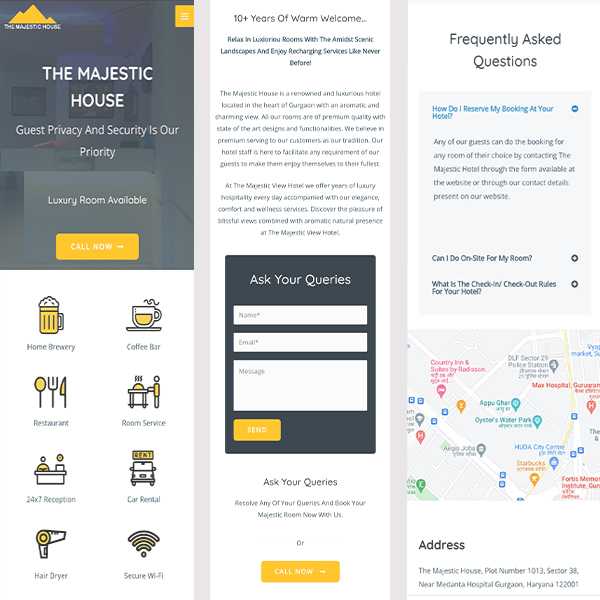 Website Designing
During the project's initial phase, we engaged our graphics team in building a professional website design for The Majestic House website. Before developing and executing our ideas, we requested feedback and confirmation from our clients.
Content & Website Development
We next evaluated our customer's popular content rivals to produce the best-optimized material that met the needs of the hospitality and hotels industries.
Keyword Optimization
Following the completion of the website design process, we continued to improve all vital features on the website, including title optimizations, meta-description, long tail, and short tail keyword optimization.
Client's Feedback
We undertake frequent website modifications as requested by our clients to ensure that their websites have the greatest possible appearance. Feedback from The Majestic House helped us in meeting their specific requirements.
People expect to be able to locate hotels over the internet. Travellers increasingly notice that everyone is linked to the internet, even numerous hospitality centres and hotels. Having a website up and running as a hotel may serve as a communication centre for all of your other marketing initiatives, such as social media, content marketing, research publications, and so on.
Websites can be used to offer information to the target audience of the hospitality sector (travel and tourism) regularly. Another advantage of having an official website for your hotel is being able to communicate and contact all of your current and future clients.
Contact Rankofy if you want to create an attractive website for your hotel which will help you unleash the door on online sales.