The Orthopaedic Department at Kaddam Multispeciality Hospital has a dedicated team of medical experts dedicated to delivering high-quality, accessible, and affordable healthcare to individuals from all walks of life. The Orthopaedic Department at Kaddam Multispeciality Hospital has grown to become one of Bhiwani's most prominent orthopaedic treatment and research centres.
The Ortho Department of Kaddam Multispeciality Hospital is Bhiwani's premier trauma centre and has a specialized staff of critical care experts and doctors who specialise in golden hour treatment. Kaddam Multispeciality Hospital has the best trauma care medical professionals, with state-of-the-art emergency rooms, ATLS-trained personnel, and specialised and super-specialized orthopaedic and neurosurgery experts.
Project Name
Website Design & Development
Client
Kaddam Multispeciality Hospital, Orthopaedic Department
Our Role
Whole Website Development
The website is designed in such a way that facilitates online appointment booking for the patients.
The website also contains separate profiles for each doctor with their education and speciality.
We have created a website with a light colour scheme that is slight on visitors eyes.
Choosing From The Best For You
Quality And Smoothness Is Our Next Name.
Rankofy- A Trustworthy Name in the Industry For Our Client.
Being one of the leading orthopaedic and trauma care centres in Bhiwani, Kaddam Multispeciality Hospital required a website with a modern appearance and effective functionalities. Kaddam Multispeciality Hospital wanted to portray their Orthopaedic expertise professionally to patients. We at Rankofy got in touch with the hospital and started identifying and evaluating the concerns that were required to be addressed.
We suggested the idea for Website Development for the hospital after examining all the concerns and aims of the hospital. Following their request, our team began working full-time on the Kaddam Multispeciality Hospital Website Development project to help the hospital expand its internet presence.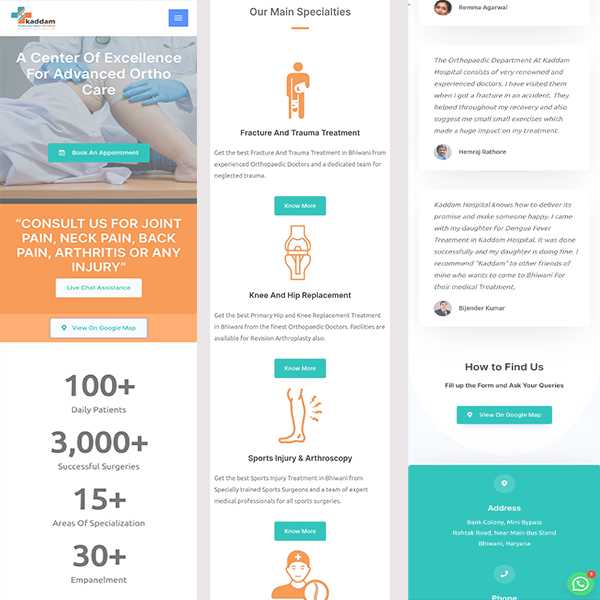 Website Designing
We dedicated our graphics team to create an attractive website design for the Kaddam Multispeciality Hospital website throughout the initial phase of the project. Before we finalized and executed our ideas, we constantly sought input and approval from our clients.
Competitor Analysis
We next examined our customer's main competitors to produce the finest contents that met the standards of the Healthcare industry.
Keyword Optimization:
After we finished the website design process, we continued to improve all important parts of the website, including title optimization, meta-description, long tail, and short tail keyword optimization.
Client's Feedback
We conduct regular website enhancements as required by our clients to ensure that their websites have the greatest possible design.
Doctors and healthcare clinics are commonly detected on the internet. Nowadays, patients see that everyone, even doctors, are online. Having a website up and running as a multispeciality hospital may serve as a communication centre for all other promotional campaigns, such as social media, lead generation, research publications, and so on.
Websites should be used to share information with a doctor's intended audience regularly. Another advantage of having a website for your hospital is the opportunity to contact almost all of your current and prospective patients.
All professionals with a high level of interaction, such as physicians, attorneys, Charter Accountants, and others, should have a website.
What are you waiting for? Contact Rankofy now!