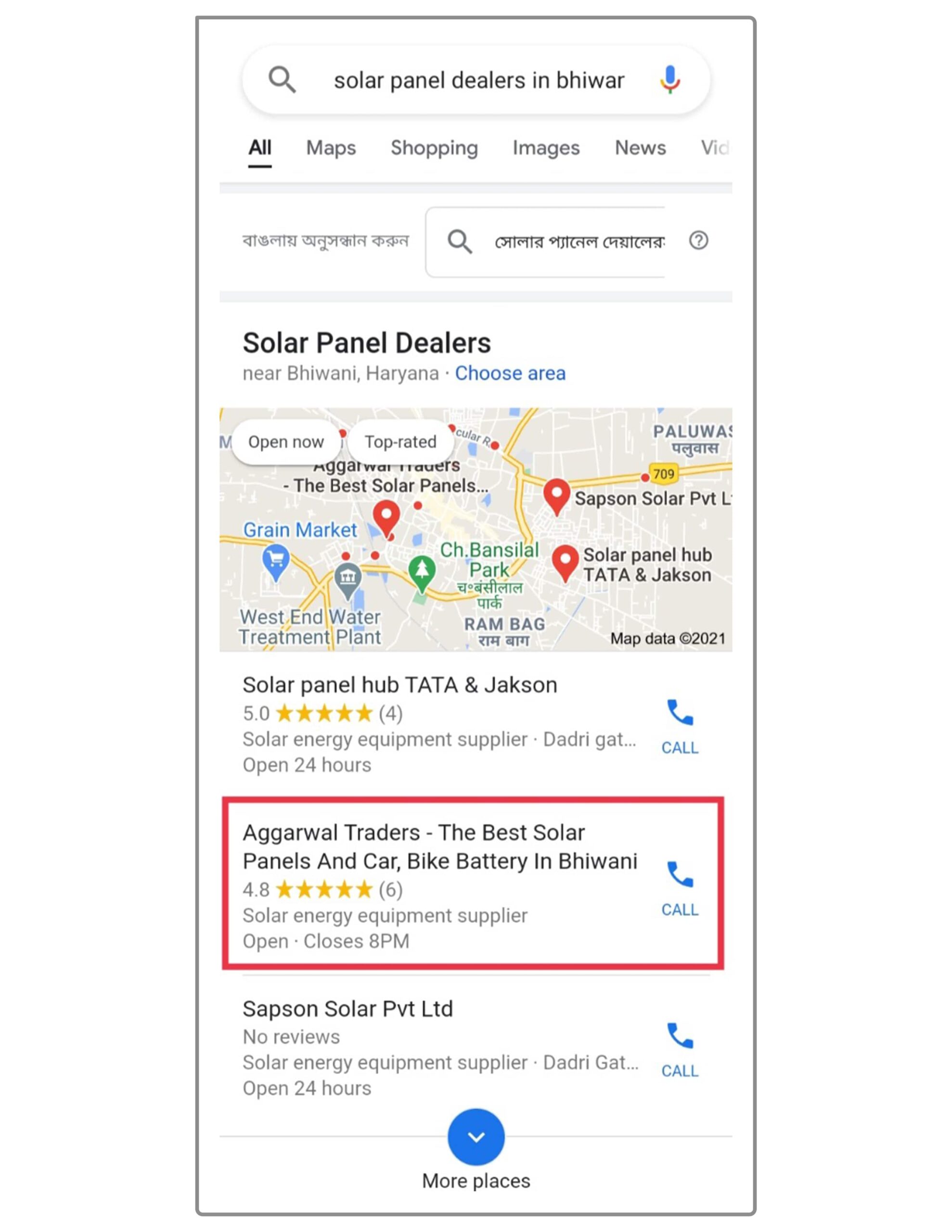 Aggarwal Traders is one the biggest supplier and dealer of Solar Panels, Solar Geyser, Solar Pumps, Solar Equipment, Car Battery, Bike Battery, Home Inverter and Battery in Bhiwani, Haryana.
Our Role
Local SEO Service
After noticing an incredible shift of people to Digital platforms during recent years and covid-19 pandemic, Aggarwal Traders also wanted to start their business's online journey but were unclear with the ways to do so.
Our team at Rankofy connected with them and helped them analyse their needs to provide the best solutions for them. We came out with Rankofy's Local SEO Service for solving their short term digitization goals.
We found out Local SEO as the best beginning for Aggarwal Traders Online journey. Our biasness was due to the fact that their business usually cater needs to a particular geographical area of Bhiwani and its surrounding.
Our client's ranking was not good as they were coming at rank 8-10 in all keywords. We started our process to increase their ranking.
Keyword Research:
We researched on the long tail and short tail keywords for finding the best keywords that will benefit our clients in generating quality leads and sales.
Client Analysis:
Our Rankofy team started with a thorough deep analysis of our client's profile to find out the possible errors and unfinished works that made them rank low.
Competitor Analysis:
Our Rankofy team then did a complete 360-degree analysis on their competitors and chalked out parameters on which we have to work for improving their rank.
Optimization And Completitions:
We started and completed all changes that were required to be done as per our analysis and report prepared for the client.
With the rise of digitalization, people always want to buy things after searching them online. Google Listing is a great way to organically get your leads attention while searching for products that you offer. Our Local SEO Service has helped Aggarwal Traders- Bhiwani to be number 1 on most keywords with our efforts along with our client's quality product and service. We are seeing a good rise in organic impressions and our Long Term Goal is to maintain our client in TOP 3 Ranking by building their goodwill.
Want to make your business standout from your competitors like Aggarwal Traders did? Contact us now for making your business GOOGLE RANKING IN TOP 3 with
Rankofy.